10. Design by Humans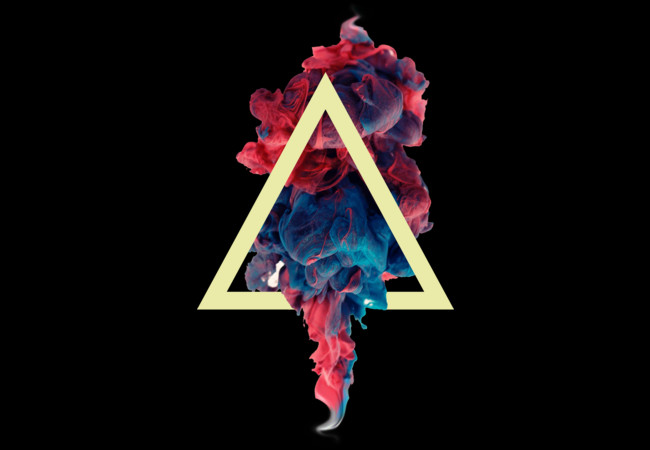 This is a community of artists, gamers, designers and youtubers. This portal is home to some of the greatest pieces of art on the internet. Shirt competitions which are mostly themed take place almost every day. The winning designs are sold at discounted rates. An artist's commission increases with the sales that happen.
What can I print at Design by Humans: Apparel for all ages, accessories like mugs, buttons, hats and Art by itself in prints of various sizes.
Highlights:
A supportive community with one common goal that is to empower artists worldwide.
Good profit margin for artists
Best marketplace to find prints
As mentioned above most sites do not charge an artist for uploading their art. Payment methods for artists vary from site to site. While most of them patout using Paypal, their criteria for sales and payments differ. So, please check with individual sites.
The sites listed above are good for both artists and a shopper. We have listed them based on reviews from both artists and consumers. Of course, individual experience does vary. But overall these are trusted sites.
9. Teefury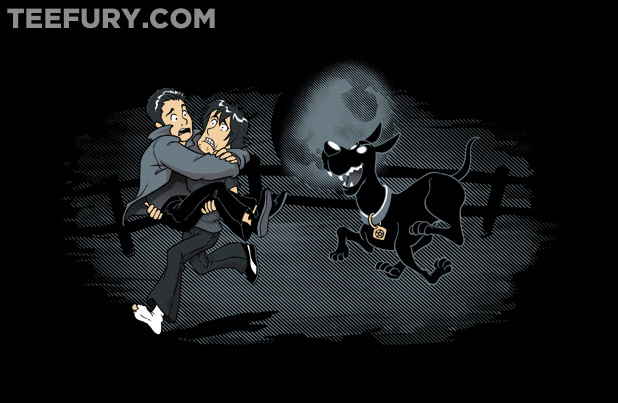 This portal is all about high quality t-shirts, hoodies and posters. They have kept it simple and stuck to a limited choice in products. The site has a unique marketing strategy. Certain designs are made available for a limited time period for as low as 11USD. This helps them get good customer traffic.
What can I print at Teefury: T-shirts, hoodies and posters.
Highlights:
Diverse collection of their merchandise
Offbeat designs
Not an artist friendly marketplace
8. Sunfrog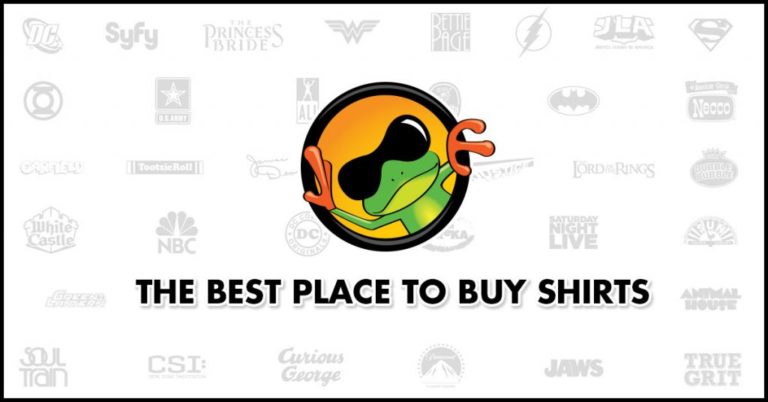 They are famous for their shirts and t-shirts. There are a number of categories one can choose from. Given the wide choice, Sunfrog has good customer traffic. Their products are printed in the USA but shipped worldwide.
What can I print at Sunfrog: As mentioned earlier t-shirts, shirts, hoodies apparels of all sizes for various moods and occasions.
Highlights:
Vast choice of designs
Good pricing for consumers
The Sunfrog academy is one of the best for artists
7. Society6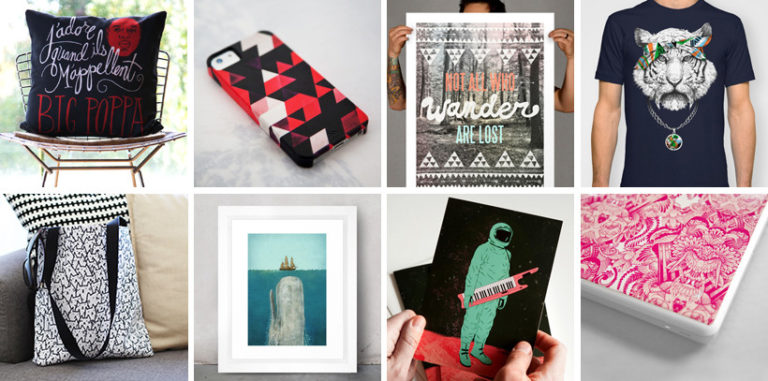 Society6 has no geographical borders. Artists across the globe can upload and sell their art. The niche area for Society6 is Art prints. This makes them unique. Apart from this they also have other products to choose from.
What can I print at Society6: Apart from products like apparel, gifts, furnishings one can also order art prints, framed art prints and stretched canvases.
Highlights:
Lots or products to print on
A great place for art lovers
Set your sale margin
Sometimes difficult to put up art because each item has a different size specification.
6. Teespring

Like Zazzle one can either choose an existing design on the portal or create one of your own. Teespring however has a minimum quantity requirement for printing. Also, here an artist needs to meet the minimum sale requirement and promote their product to get paid.
What can I print at Teespring: T-shirts and other apparel, home décor, mugs and gift items.
Highlights:
Good client base
Excellent training at the Teespring university
Set your own prices
5. Fine Art America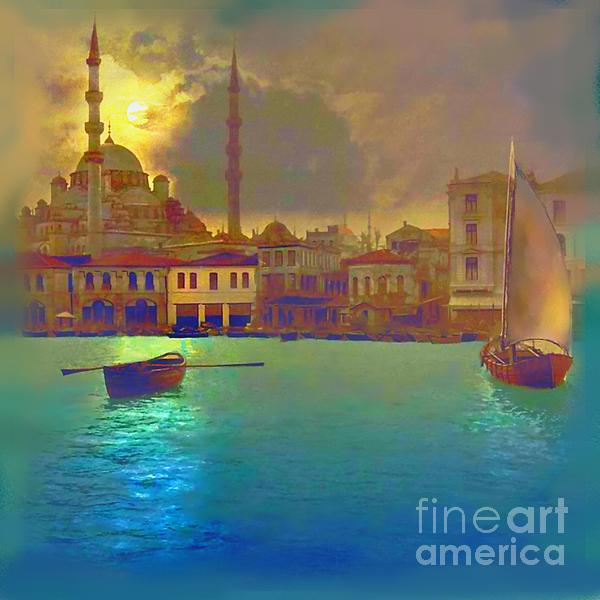 This is one site that doesn't print apparel. This is a platform that is heavy on art. One can see many paintings and images of paintings but few digital art images found commonly in other sites. So, true lovers of art this is the place for you.
What can I print at Fine Art America: wall art, home décor like cushions, shower curtains, bath towels, Tech products like chargers and phone cases and select beach gear.
Highlights:
Set your own prices
Can sell for free
License your artwork or sell the rights
On the flip side, though artists can set their sale price they do not get to know the final price of the product. So, the profit margin that Fine Arts America makes remains unknown to them.
4. Redbubble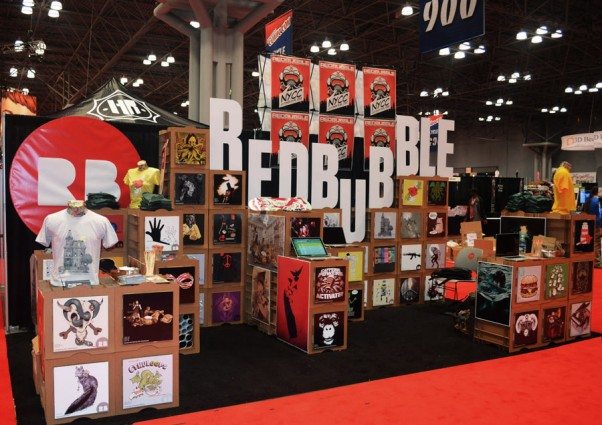 Redbubble is an online marketplace for a number of products. The artwork is submitted by a diverse community and they remain a big player in the game. It is a loved site and has a big consumer base.
What can I print at Redbubble: A wide variety of merchandise like t-shirts, skirts, notebooks, duvet covers, postcards, hoodies, scarves, stickers and more.
Highlights:
You can sell your art for a number of products
Easy to use interface
Fast upload process
Free to join
Set your own margins/pricing.
3. Zazzle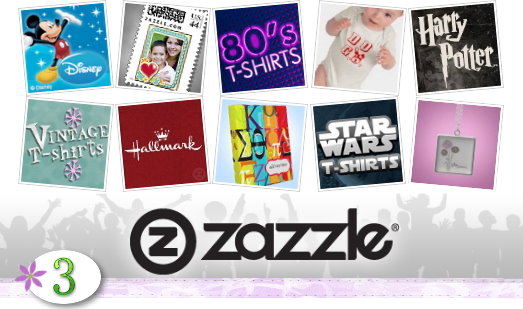 Zazzle USP is its customization capacity which is incredible and unique. At Zazzle you can create 1300+ items and then further customize them to make them. One can choose art of an artist or design something themselves. The website is very popular and has close to 30 million visitors each month.
What can I print at Zazzle: t-shirts, buttons, tote bags, invitations, mugs, stickers, business cards, kid's clothes, kid's pacifiers and more.
Highlights:
Lots of products for artists to sell art and consumers to buy
High traffic
Select your royalty
Tutorials and tips from Zazzle to improve your product
2. Printful

Printful is an old player of the game. They have been in business since 2000 and have a slightly different model compared to other portals. The site works better for entrepreneurs.
Entrepreneurs advertise their products on other e-commerce sites. When an order is received they communicate with Printful who print and deliver the product to the consumer.
What can I print at Printful: clothes for all ages, wall art, accessories like tote bags, phone cases, décor items like pillow covers, towels.
Highlights:
No hassle of stocks, printing and production related issues
Entrepreneurs can concentrate only on creating products and selling them
High quality products and drop shipping
1. CJ Dropshipping POD
CJ is the most popular dropshipping company in 2018. It has thousands of different customized products to choose from. You can design almost everything you want : T-shirts, pillows, wallets, mugs, etc. H
Highlights:
The most popular Dropshipping company
High quality products
Competitive prices
High traffic